WHEN BRISBANE couple Danny and Eva* decided to build a new home on their land in Kenmore, the eight metre fall from front to back was only the beginning of their home design challenges.
This couple were well into the typical custom home design experience on a steep block.
They had already engaged a designer but were confronting cost escalation issues. The designer had no pricing experience. They had not even been given a proper price quote.
Cost estimates already were escalating and they had no way to control costs by modifying the design.
The were in working in the dark.
Besides, they were not even sure that they liked the design. They thought they did, but had no way of knowing for sure.
The designer lacked the tools and capability to provide them with realistic imagery to visualize the exterior and interior design.
This meant that they could not effectively direct design modifications to achieve the best result. They became frustrated.
Their search for a solution ended when they drove past the offices of Building Buddy in East Brisbane and decided to drop in.
Their Problem Solved
Building Buddy specialises in providing custom home design solutions that include a full cost control service and 3D visualisation.
And to make the best use of a peaceful urban view to the west, the block's 8 metre fall presented a series of challenging design problems.
Building Buddy's designer draughtsman, Amin Eris, described some of the challenges of Danny and Eva's very steep block this week.
"Apart from the steepness of the block, we had to accommodate a garage, an alfresco area and a swimming pool, and make them all functional in combination with the living areas.
"We also needed to make maximum use of the block's northern aspect while minimising the western sun in the main living area.
Amin resolved the garage issue with clever use of a double carport, and adhered with Council height codes with innovative use of split levels. Four of them in fact.
"We followed the terrain using four split levels. Then we fulfilled the customer desires for a contemporary look-and-feel, combining the split levels with horizontal expanded polystyrene (EPS) cladding and skillion roofs," he said.
"This combo best displayed the interesting character of the block of land itself."
"The use of EPS also made Danny and Eva's new home much more energy efficient."
Another requirement for the project was Danny and Eva's desire to include a granny flat. Amin's innovative approach to the design made it easy to add this inclusion.
3D Virtual Reality Presentation Eliminates All Doubt
Once the plans were complete, it was time to present them to Danny and Eva.
But the steepness of the block, the four split levels and the entry to the home made it difficult them to get an overall idea by just looking at drawings on paper.
Building Buddy's resident 3D Virtual Reality designer Shiraz Domingo came to the rescue.
[vrview img="https://www.buildingbuddy.com.au/wp-content/uploads/2016/08/bh.jpg" stereo="true" width="400″ height="260″]
Shiraz created not only a set of photo-realistic images of the new home's exterior, but also a walk-through video of the home. Danny and Eva were able to view their new home through a set of Virtual Reality goggles and see exactly what their new home would look like.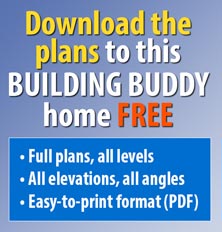 "It was so real," exclaimed Eva. "I couldn't get over the fact I was only looking at a video made from the plans, and not our real-world completed home."
Building Buddy's unique combination of 3D rendering and Building Information Modelling (BIM) meant that not only Danny and Eva got the new home design they were after, but the final project costing was well within their budget.
*Names changed for confidentiality.
Save
Save
Save
Save
Save
Save
Save
Save
Save
Save
Save