Bernie & Marilyn enjoyed doing what so many Australians do; dabbling in property investment. They particularly enjoyed the building projects they had undertaken. It was not surprising that they snatched up a wonderfully located, but sadly neglected property when it came on the market.
They set upon the task of planning its transformation.
They had plans drawn up, but found it difficult to obtain serious quotes to have it built. It was perhaps because of the quirky design they aspired to.
After some really quick market testing; (they asked their Daughter-in-law, and the opinion of a real estate agent), they realised that the design missed their target demographic completely.
After some online sleuthing, Marilyn contacted Building Buddy. The all-in-one service in particular, appealed to Bernie. He was sick of having plans drawn up, only to have some ridiculous price to build it when they took it to the market. With our process he found:
* The almost immediate involvement of the builder, who could potentially be engaged to do the work.
* The design was much more realistic. They could cut their cloth to the budget, and even increase the scope to see if they could get more for their money.
* Get to know the builder more intimately than if you simply took your plan to one for a quote.
* The whole process had a smoother flow, and not a disjointed exercise as was previously their experience, where the plan was separated from the building process.
* The entire process took place in a timely manner.
Illustrated Concept of the Design.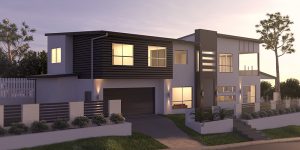 Let us hear them tell it.
Watch the full interview here.
Looking to build? contact us here and we will call you as soon as we can to find out how we can help.
Images of the completed house.