The Housing Industry is striving to come to terms with rapidly evolving consumer expectations. These Changes are creating demand for Custom Home Builders, and they now need to provide their potential customers with essential Home Design Services and detailed information on house building costs, and inclusions.
Customers require, and are demanding:
Flexible service
Custom house design
A choice of quality inclusions
Turnkey finishes
Razor sharp pricing
Professional project management
Custom Home Builders Must Improve Their Overall Performance
This means that builders must respond with wide-ranging pre-sales services to satisfy a growing custom home design demand. Home Builders are currently enhancing their current core service:
On-site construction – performance is improving; and
Building contract administration – which is fast is going online with drag & drop selections processes and project monitoring.
To be able to round out performance and service delivery, personalized & flexible client design services is becoming indispensable.
There is a growing need for:
A Standard catalogue of house designs to create idea books and stimulate the home design creative process.
Custom design and/or standard plan modification services
Flexible and dynamic computerised pricing services.
Real-time owner monitoring of online project management systems.
Similar or better pricing than the larger home building companies, who can typically negotiate volume discounts.
A More Balanced Business Model
Instead of continuing what has been a two-legged approach to their businesses
Administration
& Construction
A third & fourth leg has become vital for any building business
The Custom Home Market has to-date primarily relied on owner provided plans, even in cases where the home designer was arranged or recommended by the Builder.
This can be an expensive exercise, if the plans did not suit for any reason, or the cost to build turns out to be higher than the original expectation. This is increasingly becoming the norm as Owners become more familiar with finishing options available in the marketplace.
Having a wide selection of standard plans on the other hand, can also be difficult to manage; oftentimes miss the mark; and needs to be continually updated and refreshed to reflect market trends.
Sales & Marketing
Building Buddy's Custom home design & build processes throws a net over the market void created by the demand. It eliminates the cost barriers preventing Custom Home Builders providing a flexible custom design service, provides the service prospective customers need:
Providing a big Range of Standard Plans that can be Modified Quickly and Easily
Providing a low-Cost Customized Design Services.
Providing Accurate Real-Time Quantity Surveys so plans Can be Priced Quickly.
Producing Accurate, Quotable Prelim Plans Along the Way.
Tracking and Servicing Sales Enquiry
Producing Good Looking Colorized Brochure Style Presentation Proposals and photo-realistic renders.
Being the Clients Design and Building liaison so that plans are synced to the scope of works quoted.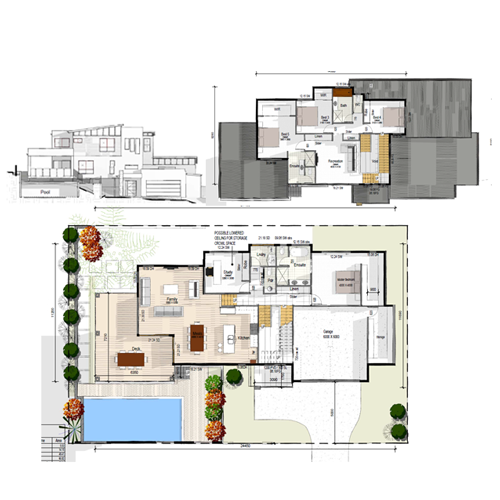 Professional Service, not Sales
By carrying the responsibility for costs associated with producing marketing content (Sales Material and House Design), we expand the efficiency and agility of the Custom Home Construction business and provide the platform for it to grow.
Builders pay us for this service, and since you are now getting a professional help instead of a salesman, you benefit by receiving detailed, low-cost, design & pricing information for your evaluation without spending a fortune.
A well-oiled business model allows the builder to partner with you to drive costs down. While competition between a limited number of builders can produce savings, these saving always seem come at the expense of builder margins. Builders without strong pre-sales flexibility can cut little else other than their margins.

On the other hand, because there are hundreds of component product that go into the construction of a home, implementing systematic multiple round supply & install quoting, produces better savings by negotiating better prices and cutting excess fat from the estimate with accurate take-offs.
Several builders working in tandem increase these savings exponentially and can negotiate volume discounts with suppliers who traditionally only provide these to the larger building companies.
How Custom Home Design Benefits Everyone
You know how people have their plans done before having any idea what the home would cost to build?
Well, what Building Buddy does is provide a design-cost-build service before you commit to spending $1,000's on plans and engineering.
In fact, our cost planning service does the heavy lifting and sets up your building project for success for as little as $200.
You benefit because your participation contributes to the Builders ability to provide great prices to their clients. You deserve nothing less.
Save time, frustration and money.
FREECALL 1800 710 102