WARM COLOURS – including fiery reds and oranges, sunny yellows, and toasty neutrals – take the chill off a kitchen's polished surfaces and can be combined in ways that suit every decorating style.
Blend two or more warm hues to create a cozy kitchen, or balance spicy-hot tones with cool blues and soft neutrals to fashion galleys with a beachy attitude.
When it comes to creating warm color palettes for your kitchen, you'll find the possibilities are almost endless.
Here's a look at 11 kitchens that stylishly sizzle, thanks to savvy interior designers who employed warm (along with a few cool) colors to perfect effect.
Khaki + Butter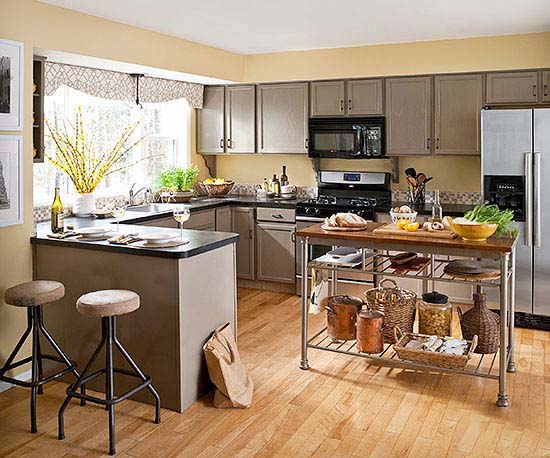 Kitchens are busy workplaces that benefit from peaceful-hue perimeters. In this kitchen, buttery yellow paint (cued by the wood floor's golden undertones) softly warms the walls while showcasing cabinets finished in a deep khaki. When opting for kitchens finished in shades of creamy gold and medium brown, boost the temperature by accessorizing with copper pots, wooden accents, and woven baskets.
Navy + Pumpkin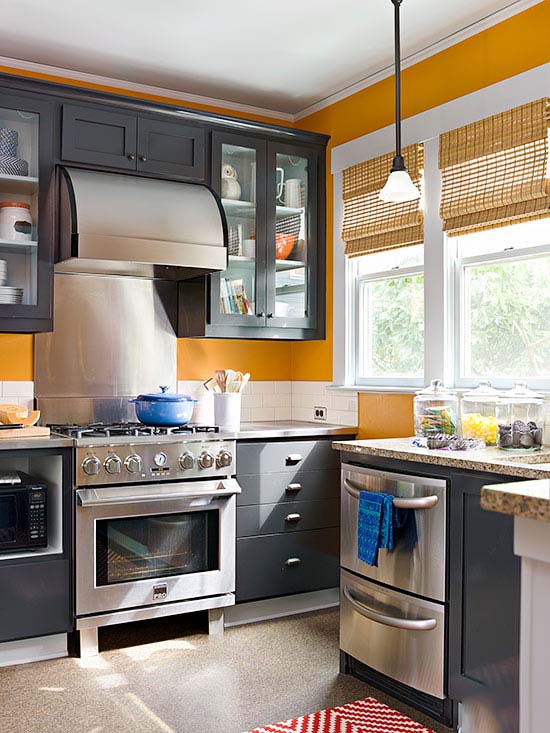 Create a memorable kitchen scheme by using complementary colors of equal intensity. Navy blue and soft grays stimulate and add substance to hardworking spaces. Add in vibrant orange surfaces, like these pumpkin-color walls, and you've got a winning combination. Keep the mood light by incorporating white trim and stainless-steel finishes.
Daffodil + Cherrywood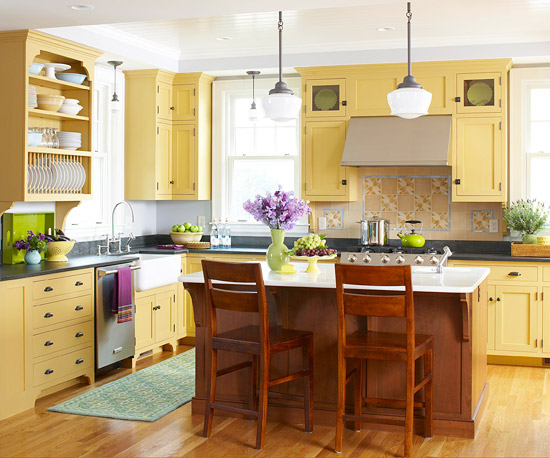 Daffodil-hue cabinets supply a lively wakeup call that ensures mornings start on the most cheerful of notes. Yellow is a fine companion for red, but when you combine the two flashy shades, you're likely to end up with a too-loud space. Instead, try cherrywood furnishings that present red undertones in an understated manner. Here, a cherrywood island and barstools add a rich and warming anchor to the already inviting space.
Sunny Yellow + Mahogany + Persimmon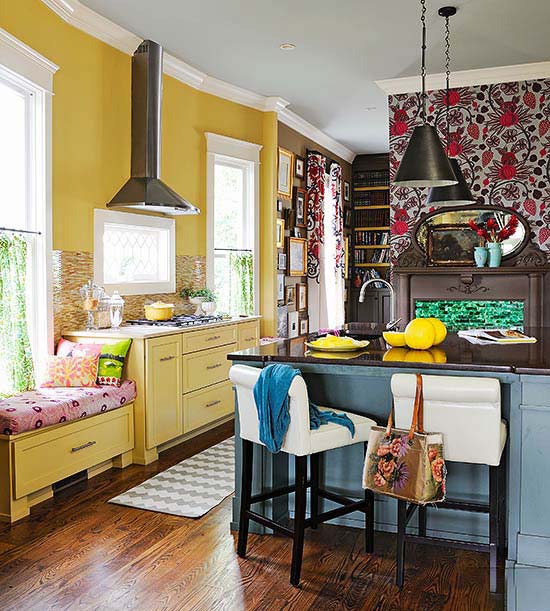 If you like eclectic spaces that reflect an affinity for bold colors, you'll love this kitchen's combination of warm and cool hues. Sunny yellow walls and cabinets, mahogany wood finishes, and wallpaper boasting persimmon-hue motifs create an interesting interplay of vibrant and muted colors. The warm tones nicely balance cooler greens and blues. Both the persimmon wallpaper and pink window seat fabric play off the red undertones in the surrounding mahogany.
Honey Gold + Greige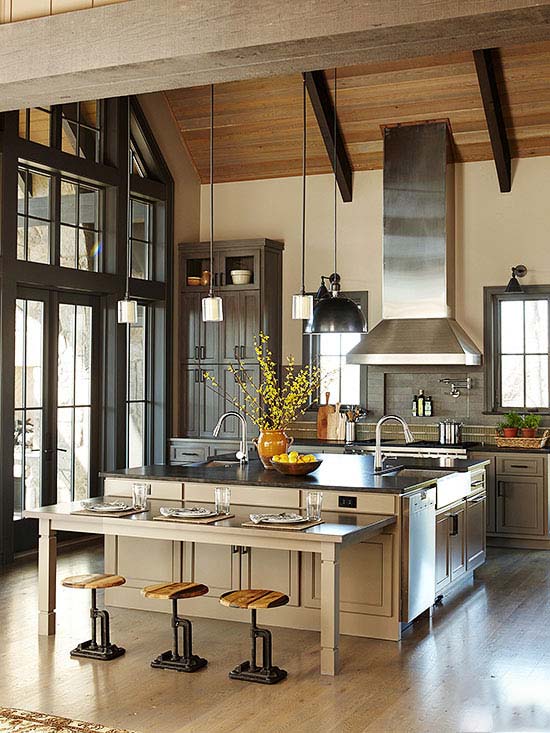 Mix beige and gray, and you'll come up with "greige," a shade valued for its neutral presence and warming brown undertones. In this kitchen, greige makes a statement as perimeter cabinets, painted woodwork, and a brick backsplash. The greige elements, which deepen the silvery tones of stainless-steel fittings, are enhanced by warmer honey golds seen on barstools and a wood-clad ceiling. When choosing a paint color for your walls, look to the room's wooden expanses for inspiration. Repeating the wood's underlying shade on a kitchen's walls in a paler shade results in a charmingly cohesive view.
There are so many new, exciting and innovative kitchen ideas out there, and we can share the very latest with you –
Building Buddy 1800 710 102.

---
Read the full source article here
Save
Save
Save
Save
Save
Save
Save
Save
Save
Save
Save
Save
Save
Save