Never thought you could fit an island in your narrow kitchen? Think again with inspiration from these clever designs!
Islands are workhorses in the kitchen. They offer an additional surface area, apart from the perimeter benchtops, that can be used for food prep, serving or as a place to perch and hang out with family and friends.
Those with space-challenged kitchens often think there's no way they can squeeze in an island, but you'd be surprised at just how compact you can go.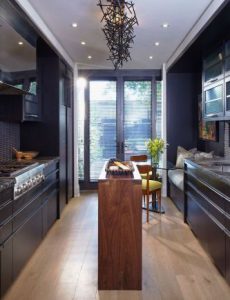 The minimum width of a kitchen work aisle should be roughly 1000 millimetres for a single cook and 1280 millimetres for multiple cooks, to allow for adequate room to move.
A walkway should be at least 900 millimetres wide.
In a small kitchen, it can be tough to accommodate a standard-size island, which typically measures 600 to 1000 millimetres deep, and still have adequate space for aisles and walkways.
But there's quite a bit of flexibility when it comes to the size and orientation of a kitchen island. It should be designed and placed to provide an additional surface without being in the way of crucial kitchen tasks.
Many homeowners actually prefer a compact island because it allows for better flow – it's easier to get around when moving from one area to another.
Of course, you don't want to make the island so tiny that it's no longer useful.
The previous two islands are fairly skinny but still offer enough surface area to be useful for various kitchen tasks.
It's important to think about the function of your island. Do you need additional storage space at the base of the island?
Can it be open, such as the island above, or do you need closed storage? If it's going to be an open shelf, think about what you will store there, as it will take centre stage in your kitchen.
Whatever is stored there could become a grease and dust collector unless it gets frequent use.
Clever use of clever kitchen design can make all the difference to your dream home.
Call Building Buddy 1800 710 102.

---
Read the full source article here
Save
Save
Save
Save
Save
Save
Save
Save
Save