DOMESTIC AND international buyers descended en masse for the annual furniture and accessory show at World Market in Las Vegas. They had more than a passing interest in what's currently trending in the design world.
"Trending," for those of you unfamiliar with the term, is simply design speak for what's expected to become a trend because, although more subtle than fashion trends, home trends do tend to change from year to year. And while some design cognoscenti may predict a major shake-up of interior design trends this year, it's probably more like "the more things change, the more they remain the same."
Here is what Winter Market attendees saw in 2017:
Colour Inspiration
Once again, much of the color inspiration for 2017 appears to be drawn from nature helping to make designs feel comfortable and natural. A desire on the part of homeowners to connect with the outdoors certainly continues, so it seems a natural choice that the color green is strong once again. From lime green to emerald it's a color that works well throughout the home whether for a wall color or a full-size rug.
In fact, Pantone's 2017 Colour of the Year is a bright green called "Greenery," which is probably meant to represent refreshment and revitalization in our complex and technology-based world. It's a great backdrop color that adds depth as it brings in colors from the outdoors.
Navy remains a popular color for the last few years and is thought to be the new black, but dark green seems to have up-ended its position. Different tones of gray, white and taupe, as well as gray in deeper colors, will certainly remain on the scene and help to create a sophisticated look.
But there's little doubt that 2017 also is about neutrals and muted colors: whites, beiges, pale grays, camel and blush-pinks. Jewel tones inspired by metals, along with touches of Lucite, will still be with us, though, to help add sparkle and interest to our interiors.
Natural elements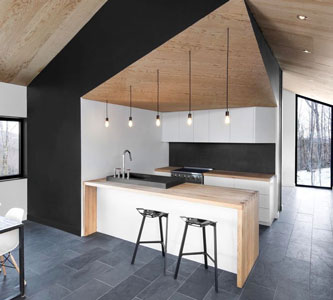 Hard surface floors are still an integral part of today's lifestyle, no doubt in part because carpets often hold dust mites, dirt and other allergens. Cork is back and one of the key trends for 2017.
Cork adds warmth and texture and can absorb noise for the large and open floor plans that are so ubiquitous. (By the way, there are some that predict the demise of such floor plans and a return to more traditional defined floor plans of incorporated living spaces.)
Terracotta is also thought to be making a big comeback in 2017 along with the organic look of limestone, concrete and marble that seem poised to continue with their current popularity along with stainless steel and hardwoods with reclaimed and relaxed looks.
Rustic look still strong
And though it was predicted a few years ago that there was a movement away from the rustic to a more minimalist modern design, that isn't exactly the case for 2017. The rustic look is still here after five years and the use of natural materials has only grown stronger.
Rustic wood finish will be all the rage in 2017, and it's thought that the country cottage feel is to become more popular than ever. The vintage explorer look with its globes, leather-bound books, vintage suitcases and exposed light bulbs will go along nicely with the tartan chair, the plaid throw and the rustic furniture that will be trending this year.
And to be sure, checks (along with tartans) are here to stay for throws, rugs, carpets, wallpaper and sofas.
All about texture
This look works great with the unexpected textures and eclectic mix that are coming on the scene. In fact, 2017 will be all about texture, all about mixing fabrics and materials. Faux and texture are certainly in and being shown in new ways.
Texture in an interior, such as a nubby wool throw over a leather chair, makes it more inviting. Designers are using faux throws and pillows for their luxurious and inviting look, and the new faux materials are truly beautiful. In fact, 2017 will see a return to slightly more luxurious interiors that help to make a home as comfortable as possible with approachable design.
Included in the mix is relaxed furniture and materials such as deep sofas with linen, oversized love seats, day beds, upholstered headboards sheepskins, chunky knit wool rugs and floor cushions. Items are more artisan and more hand-crafted than DIY or loving hands at home.
And more …
Also popular for 2017 are tropical prints that have been inspired by the fashion runways and make great throw pillows on a plain sofa. Geometrics will also be seen to great success as they'll help to give a curated feel through the use of patterns that speak to ancient cultures like African and Asian but are modernized in their look with simple lines, geometric designs and triangles.
Quirky lighting such as playful pendant lights as a design accessory will be popular as they're both whimsical and practical. Metal will continue its dominance with everything from copper pendant lighting to brass sinks because, as I mentioned in a previous column, design license has been given to actually mixing and matching finish colors such as gold and silver. Bronze will also make the scene in vases, lamps and decorative bowls.
Go ahead and add a few favorite new elements into your own design to freshen up the look of your home. But always remember that there's only one style and trend that really matters — and that's your own.
Stay true to yourself, don't obsess about what's in vogue; and fill your home with only the things that really bring you pleasure and that you can enjoy for years to come, even if they are no longer "trending."
There are so many new, exciting and innovative interior design ideas out there, and we can share the very latest with you –
Building Buddy 1800 710 102

---
Read the full source article here
Save
Save
Save
Save
Save
Save
Save
Save
Save
Save