WHILE MANY new home builders' processes are structured to persuade their customers to accept kitchen designs that conform to a 'standard' templates, Brisbane firm Building Buddy has completely flipped this on its head.
Building Buddy Director Joh Domingo has decided it's time to stop new home customers from being forced to accept a stock standard kitchen design for their new home to make it easier for them to manage the building process.
"Many new home builders in South-East Queensland are denying their customers the kitchen styles they want, by charging a penalty premium for custom designed kitchens.
"We believe that this is because they are focussed on doing what is good for the builder, allowing them to focus less on the individual wishes of their customers.
"Our builders manage far less homes than the average project home supervisor, can save the customer more money in the process, AND deliver a customised building experience." said Joh.
"What we're trying to do is help people get those architecturally designed kitchen elements which are available from the best architects all round the world, into their homes… without forcing them to settle for some standard product."
He explained that to keep profits high, many of today's builders manipulate their customers into accepting stock standard kitchen designs straight out of their template collection.
"Even their upgraded kitchen conform to a typical template. The effect of this practice is that 80% of new homes these days, for all practical purposes, have identical kitchens." says Joh.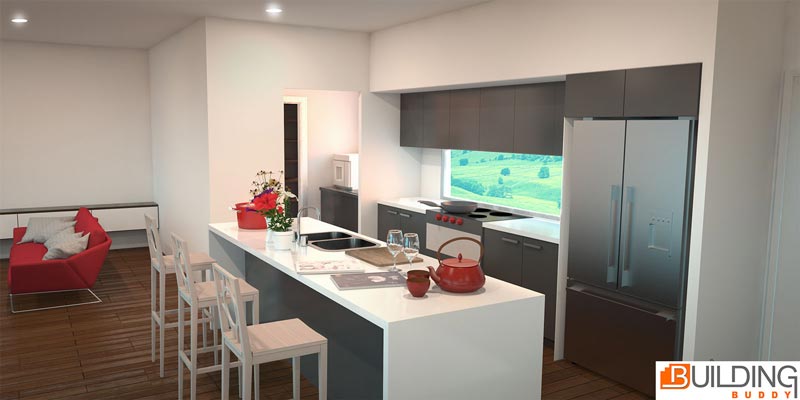 "We're building a studio in our Stanley Street East offices which will allow people to let their creative juices flow free and imagine the kitchen of their dreams."
Joh explains that when their own home is complete, they enjoy their own kitchen that is not only more striking and creative, it also to functions precisely as they imagined it would.
[vrview img="https://www.buildingbuddy.com.au/wp-content/uploads/2016/10/Pozieres_H_360_low.jpg" stereo="true" width="600″ height="410″]
360º Virtual 3D representation of the kitchen chosen by one of our delighted clients.
"We have many cutting edge tools in our creative centre that will help the creative process, like our 360º 3D Visualisation Studio which allows our customers to actually experience what their kitchen will look like in Virtual 3D.
"We have adapted this technology using the latest Virtual Reality 3D Gaming platforms, and have adjusted it so that our customers can experience their new kitchen as if they were really standing right there in it."
Talk KITCHENS with someone who wants you to get the new home YOU want –
Building Buddy 1800 710 102.
Save
Save
Save
Save
Save
Save
Save
Save
Save
Save
Save
Save
Save
Save
Save
Save
Save
Save
Save
Save
Save
Save
Save
Save
Save
Save
Save
Save
Save
Save
Save
Save
Save